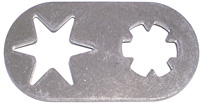 Small, low cost spanner for use in the field or as part of a spares kit
For use on D7, C7 Valves and A6, A9 Pressure Relief Valves
Cannot be used with a torque wrench
Product Description
The Leafield Marine D7/C7/A6/A9 Tool Kit Spanner is a compact tool that can be used to loosen or tighten your Leafield Marine air valve. This allows product users to make simple, on the go adjustments themselves.
Many of our customers offer them as part of a repair kit to their product users, or as a value added item.
Please note, this is different to our factory fitting tools and cannot be used interchangeably.
Make An Enquiry