d7-inflation-deflation-valve-1
d7-inflation-deflation-valve-2
d7-inflation-deflation-valve-3
D7-dropstitch-1-e1622045010784
High flow for size
Rugged and reliable
Low profile at 50mm overall height
Smooth, snag free cap
Cap works as a second seal
Company Brand can be added to the cap
100% tested during production
High quality materials to ensure long life
Core can be removed from the outside of the tube for cleaning
Product Description
The Leafield Marine D7 valve is designed to replace the highly successful C7 Valve – the favoured inflatable boat valve for use in demanding applications such as Military and Commercial RIBs, River Rafts and Inflatable Boats.
The D7 Valve has improved inflation/deflation speed compared to the C7. It has an improved clamping method, with an 'O' ring seal added to the valve core, to reduce the risk of lateral leaks in the fabric.
Acetal (POM) plastic parts give high strength with chemical, ozone and shock resistance.
The seal is designed so that it cleans the seal surface as it operates; this reduces the risk of leakage due to dirt contamination.
The D7 valve has a shorter, smoother internal profile than other valves making it ideal for smaller diameter tubes, for example – inflatable kayak floors.
When the cap is fitted the strong retaining strap is hidden from view to prevent it snagging on other equipment. Cap replacement is simple – the valve does not need to be removed.
The D7 core is available in grey or black and the caps are available in grey, black, white or yellow. Your company brand or logo can be added to the valve cap, subject to a minimum quantity and tooling charge.
For information on using the D7 valve with Drop Stitch fabric please see the D7 High Pressure Valve.
Make An Enquiry
INFORMATION SHEETS
The above documents are in PDF format.
To view these please use Adobe Reader.
"Gemini have been using the tried and tested Leafield valves in our commercial and professional RIBS for many years and will continue to do so."
GEMINI MARINE TEAM
"Leafield Marine's expertise in design, manufacturing and customer service is second to none. Great support, timely deliveries and cutting-edge technology; we are proud to team up with them."
RIVER GEAR TEAM
"I go rafting to be in the moment, so I don't want to think about my gear. Thankfully I never have to think about my Leafield valves."
NRS TEAM
Accessories and Service Tools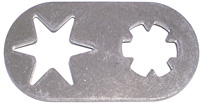 D7/C7/A6/A9 Tool Kit Spanner – C166051

Small, low cost spanner for use in the field or as part of a spares kit

For use on D7, C7 valves and A6, A9 Pressure Relief Valves

Cannot be used with a torque wrench
D7/C7 Pump Hose Fittings

Screw in hose adaptor gives a secure, sealed attachment of the hose during inflation.

Available to suit hoses with 16mm or 20mm internal diameter.

Screw-in pump adaptor with internal spring holds the valve spindle open when inflating, to reduce back-pressure (improves flow when using an electric pump).
Pressure Gauge

0 – 8.5 psi or 0-20 psi range, high accuracy.

Ideal for ensuring the optimum performance of your RIB and Raft.

Can be used with any Leafield Marine Inflation/Deflation valves.

Stainless steel housing with a damped shock resistant mechanism.

Rugged – protected by the rubber shock-absorbing cover.
D7/C7 Factory Fitting Tools – 0710002

Used together with a torque wrench. This will ensure that the correct tightening torque is applied every time when installing the valve.

Avoids damaging the valve during tightening.

Please refer to D7 Installation and Service Instructions.
Electric Pump

We do not supply pumps but can recommend the following electric pump.

FOR NORTH AMERICAN MARKET ONLY.

Available from Man of Rubber River (Distributor).