Compact size – 46mm diameter
Designed for use with drop stitch fabrics up to 45psi
A wide range of pressure settings from 10 to 45 psi (see selection chart)
Fast installation with clamp fitting – No welding or adhesive required
Internal and external filters to stop drop stitch threads, sand and debris causing leaks
–30ºC to +65 ºC operating temperature
100% tested for opening and closing pressures
No routine maintenance required
Product Description
The A9 is a compact and robust Pressure Relief Valve perfect for uses where reliability and smaller size are critical. The design makes it suitable for a wide range of high-pressure applications, such as paddle boards, leisure, military or commercial inflatable boats that use drop stitch fabric.
High quality materials are used in the A9 – impact and UV resistant acetal body, stainless steel spring and silicon seal to ensure a long life in tough conditions.
It can also be used in a range of different products and fabrics e.g. inflatable tents, inflatable walls, lifting bags, and crash barriers.
For inflation/deflation valves suitable for use in similar applications, please see D7 Inflation Deflation Valve Dropstitch.
Available in Grey and Black.
Make An Enquiry
INFORMATION SHEETS
The above documents are in PDF format.
To view these please use Adobe Reader.
"Gemini have been using the tried and tested Leafield valves in our commercial and professional RIBS for many years and will continue to do so."
GEMINI MARINE TEAM
"Leafield Marine's expertise in design, manufacturing and customer service is second to none. Great support, timely deliveries and cutting-edge technology; we are proud to team up with them."
RIVER GEAR TEAM
"I go rafting to be in the moment, so I don't want to think about my gear. Thankfully I never have to think about my Leafield valves."
NRS TEAM
Accessories and Service Tools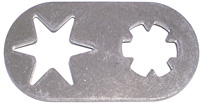 D7/C7/A6/A9 Tool Kit Spanner – C166051

Small, low cost spanner for use in the field or as part of a spares kit

For use on D7, C7 valves and A6, A9 Pressure Relief Valves

Cannot be used with a torque wrench
A9 Factory Fitting Tools Nut Spanner TM 3117 Body Spanner – TM 3088 Set – TM3120

Used together with a torque wrench. This will ensure that the correct tightening torque is applied every time when installing the valve.

Avoids damaging the valve during tightening.

Please refer to A9 Installation Sheet.